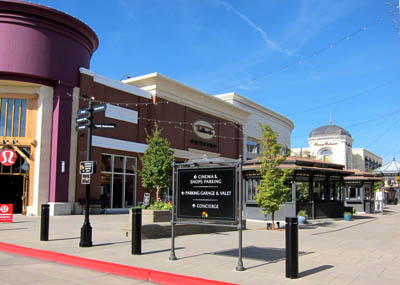 This faux downtown lifestyle center in Tigard, Oregon, called Bridgeport Village, has created a riotous cacophony of demand from various suburban communities throughout the Portland Metro region: "Hey, we want one of those malls in our town!!"
Aside from the fact that we are not going to see US consumer buying power expand any time soon, and aside from the fact that many of these places have real historic downtowns that are languishing and could use some love, the reality is that the proliferation of structures that cannot be adaptively reused easily is creating future headaches for property owners, city government, and the neighborhoods that surround them.
For the life of me, I cannot imagine why, in this economic climate, a city would pursue the construction of a large lifestyle center, since it would merely shift existing retailers from older malls or big box locations into these sexy new buildings, leaving difficult-to fill space behind. So, what do you do with dying malls and empty big box locations?
Below, Ellen Dunham-Jones shares a host of interesting suburban adaptive reuse projects based on her book: Retrofitting Suburbia: Urban Design Solutions for Redesigning Suburbs. She has uncovered some very innovate approaches throughout the country, but I fear our supply of dying malls is going to far outstrip our ability to fill them.
{ 2 comments }