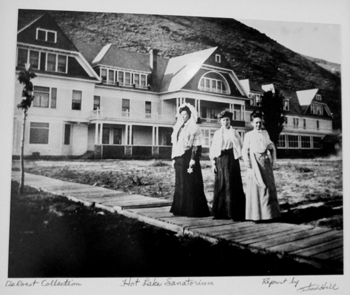 Earlier this week, I paid a visit to an intriguing place called Hot Lake Springs, which is located in what felt like the middle of nowhere in eastern Oregon. Back in the day, Hot Lake Springs billed itself as the "Arkansas of the West" — after Hot Springs, Arkansas. (The site in its full glory is pictured to the left.)
Hot Lake Springs went from spa darling to decrepit building over the last century, facing the same challenges that are found in many rural historical sites around the nation:
What do you do with a huge building steeped in history that is in a very remote location? What if that building is falling apart? Riddled with lawsuits? Has bankrupted previous owners? What if the entire region has given up hope and assumed the building would decay until it could no longer be saved?
The story of this place is an improbable tale of renewal and adaptive reuse. A tale that requires some back story…
These hot springs had long been a neutral gathering place for various Native American tribes in the area, who came to partake of the spring's healing qualities, according to the present owners, David and Lee Manuel.
In the early 1800s, it was discovered by what were to be Astorians, and by the middle part of the century (and in the midst of a nearby gold rush) Europeans had taken it over and had erected extensive wooden buildings on the site.
With the advent of the railroad in the early 1900s, passenger loads of visitors were shepherded to a station right in front of the hotel three times a day.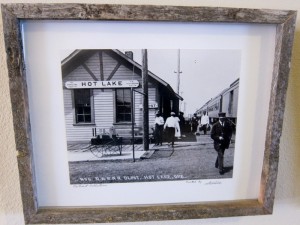 According to an article in USA Today,
The Mayo brothers, of Mayo Clinic fame, were frequent visitors.

Vacationers came to relax, patients to shed a variety of ills.

Hospital director Dr. W.T. Phy believed syphilis could not withstand the repeated hot sulfuric baths in the lake water (it survived just fine) and, in those pre-antibiotic days, dosed his patients accordingly. Arthritis patients were placed in a hot mud bog.
Under Dr. Phy's stewardship, this became an unlikely major worldwide tourist attraction. It was most frequently reached by rail (nearly 300 miles east of Portland). It had a teaching hospital, a post office, a hotel, a spa, a dance hall…it was really like a self contained little town.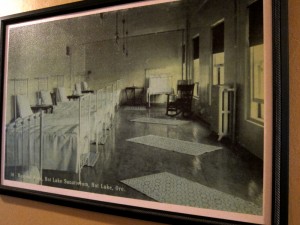 Dr. Phy died in 1931. Three years later, most of the wooden structures on the site burned to the ground in a massive fire, leaving just the large colonial-style brick building that remains today (designed by John V. Bennes).
After the fire, the long, slow, inevitable decline of this historic property began. It operated as a resort, then as a hospital. It also served as a flight school and nurses training center during World War II. Later incarnations included a nursing home, an asylum, a restaurant & nightclub, and a bathhouse.
Then, it languished for well over a decade. The place was looted, vandalized, lost most of its windows, rotted, and lost portions of its roof.
In fact, it was so bad, the hotel was featured on the television show The Scariest Places on Earth in 2001.
Enter Lee and David Manuel.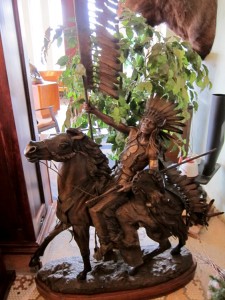 David is a successful bronze sculptor who specializes in Western art. He typically works for a year on his incredibly detailed pieces, and sells out limited edition runs before he ever finishes them. Lee, his wife, is a former restaurant owner who manages the business end of his art.
In 2003, on a trip with their blended family, they decided, on a whim, to purchase the building and bring it back to life. They disposed of their assets in Joseph, Oregon and put their hearts and souls into renovating this place.
Lee said it took 15 months of her coming every night and working a night crew just to get through clean up. She said they dry camped in the building for several years before all the utilities were functioning.
Now, 9 years later, David's studios are here. They live here. There is a foundry on site. David's collection of Native American art, war memorabilia, and historic vehicles has found a home here. They have a multitude of antique fire fighting equipment to view. In fact, antiques are placed throughout the hotel. There is a bronze art exhibit. Taxidermy abounds. And, of course you can partake of the 200 plus degree hot mineral water (cooled down, naturally). And now, most recently, they operate a rather rustic bed & breakfast.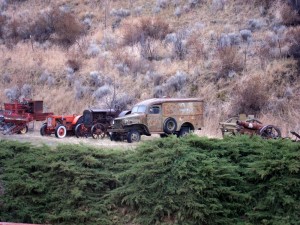 The building is heated entirely with the original radiator system that uses water from the springs. Apparently, it is listed as the first building to use geothermal energy for heating in the country. The gentleman who tends to the radiators said he spends several hours a day just trying to keep the temperature at the correct levels throughout the building, something that is a particular challenge in spring, when the weather fluctuates dramatically.
The model the Manuels use for selling David's art — only to direct buyers whom they meet face-to-face — dovetails perfectly with them being located in a building that is a living monument to the Wild West, filled with items from the Wild West, located in the Wild West.
Not everyone is enamored though. If you read online reviews, you will find many visitors who are less than impressed with the interior renovation work. Poor lighting fixtures…false ceilings…a horrible faux fireplace and mantle in the circular lobby…plastic spa tubs for a soak in the heated mineral water, and unfortunate carpeting choices are all examples cited. And while these comments are most certainly true, it also is fact that without the Manuels, this building would have decayed beyond repair. They employ many in a rural economy that definitely appreciates the jobs. And, the bronze studio provides a focal point for area artists.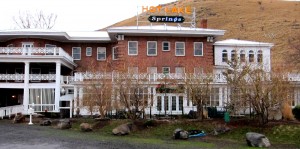 As the Manuels have shown, small artisanal businesses, ones that have a wholesale or production component, are often the key to bringing back historic infrastructure. And in the case of Hot Lake Springs, it seems most important that they saved the building structure, brought life and activity back to the old sanitarium, and that the exterior is being preserved. All of this will allow the interior to live to fight another day!
Has the move been worth it for the Manuels?
According to Lee, her husband David, who is in his early 70s, is doing the best work of his life and is seeing an increase in sales, even during this recession.
His latest piece, which he talked with us about on our visit, will be a Native American couple on horseback, looking up at the moon. He said it is his first piece with a touch of romance and that he wants it to project love and peace.