When he got his start in the grocery business with Fred Meyer decades ago, Gary Slabaugh said he knew EVERY property owner that surrounded the store where he worked. He knew them, their families, their kids' birthdays. Part of managing the store was participating in, and being a member of, the surrounding community. Smart business if you are a retailer and property owner.
Fast forward a few decades, and contrast that with some of Gary's more recent experiences as VP of Real Estate for Safeway, where he said some of their leased mall locations have been sold 12 times over the last few years. Each sale of the mall, he said, exchanged hands for more money, selling to another out-of-town Real Estate Investment Trust (REIT).
How did these properties increase in value if rent wasn't increasing as well? We puzzled over this question as I was moderating a panel at the Portland ICSC Alliance event this year on the subject of Retrofitting Suburbia. (Keynote presentations by Michael Freedman and Ellen Dunham-Jones are available on the right hand navigation bar, if you follow the previous ICSC link.)
The role of retail and restaurants in a city is vitally important. Stores and eateries act as activators. They are entertainers. They are draws. They provide identity. Yet, few cities actually manage this square footage like the precious resource that it is.
In fact, as Gary's story so beautifully illustrates, the whole nature of retail, particularly along arterials and in suburban communities, has dramatically changed, shifting almost entirely into the hands of institutional investors, out-of-state owners, and large corporations. Accountants are not retailers, as my professional crush Paco Underhill notes in Call of the Mall. (One of the reasons he cites for malls being so ugly!)
This consolidation of properties and development into the hands of absentee number crunchers has not been good for America's communities. It has led us to us being an utterly and completely over-retailed nation, diluting the positive impact that retail and restaurants can have on our cities and towns. And, it has left us with under invested or abandoned retail infrastructure that drives down property values, invites crime, and creates negative identity, like the arterial pictured above left.
Let's compare America's retail spaces to the rest of the world.
In a Costar report from 2010, the real estate database and analytics firm estimated there is at least 56 square feet of retail space per person in the United States. This equates to about 46.6 square feet of total retail space per capita in our country, according to ICSC estimates.
Juxtapose those numbers with retail space in a few other countries. Canada and the UK clock in at around half of the US glut, and places like Mexico and India are closer to 2 square feet of retail space per capita. A fraction of the real estate we have enshrined to consumption!
What do these statistics tell us? The United States has more retail space than it needs…more than it can possibly use.
Every time a city adds retail space, it is cannibalizing its own existing retail infrastructure. This trend gets exacerbated in areas with sales tax, as cities duke it out over who lures Wal-Mart from the next county over.
In a reality where we have a huge oversupply of retail space, why do we keep pretending there are unlimited dollars just waiting to be spent? Why do we think that all we need to do is build the next new mall and everything will be great in our towns, neighborhoods and corridors?
Let's look at a local example of this from Gresham, Oregon. (Click on the map below for images and more information.)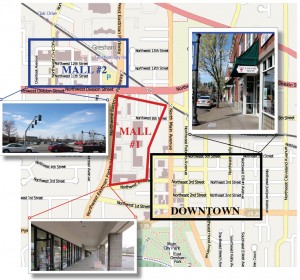 There is a fabulous little downtown here, that had, and still has, a great street grid, charming buildings, and a nearby park with a Japanese garden that is being renovated. As this suburban downtown started to suffer the inevitable postwar decline that occurred everywhere, what happened?
A strip mall was conceived and built right along the edge of downtown. (Mall #1 on the map.)
Did this help downtown? Of course not.
Since the strip mall was a super block, it ruined grid connectivity, it visually eliminated any connection between downtown and nearby streets, and the mall was oriented so its back faced downtown, doing the strip mall equivalent of mooning this once thriving center in Gresham.
Eventually, this "new" mall became dated. Downtown continued to suffer. So what happened next?
Another mall!! Across the street from Mall #1. Literally. This shopping paradise was larger, newer and lifestyle center-y. (Let's call it: Mall #2.)
Sadly, with this much retail space stacked on top of each other, this is now an environment that struggles with vacancy and turnover. And, this massive amount of mall space is dwarfing a great downtown, and hindering its revitalization as well.
There are several big lessons for cities in all of this:
Large corporations with no connection to your municipality often don't care about your city, they are making decisions for their bottom line first and foremost. I would venture to say that nearly every REIT and big box concept has built in places that were clearly bad for the city and the surrounding area. Remember, what may be good for an out-of-town company is not necessarily good for a city as a whole.

Complete, and keep up to date, a retail capacity assessment in your city.

Don't over zone for retail.

Don't allow new large retail developments without considering how they impact all retail infrastructure in the city.

Give preference to local developers who have a stake in the community and tend to hold their properties for long periods of time. Real estate is rarely developed optimally, and maintained at its highest and best use for the whole community, if it is owned, controlled, and managed by institutional employees as an accounting exercise in another state.
Map image is courtesy of OpenStreetMap, © OpenStreetMap contributors, CC BY-SA
{ 1 comment }