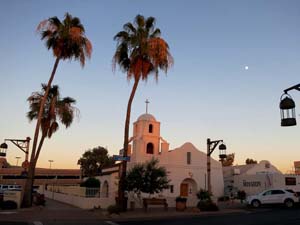 During the summer of 2013, my husband and I took a very uncharacteristic vacation to a spa in Scottsdale, Arizona. I say "uncharacteristic" because a spa in the desert at the height of summer would not normally be at the top of our list of vacation destinations.
But, long story short, we were quite happy to find ourselves, sans children, in this suburban Arizona town in June. (And, may I say, it was a lovely location from which to watch the super moon!)
So, one of the things that jumped out at me about The West's Most Western Town (yes, that is Scottsdale's somewhat official nickname), is that the built environment of this relatively new, arterial-focused city is dominated by walls.
Undulating walls…walls made of different materials…short walls, long walls, tall walls, grand walls, pony walls. There are walls with embedded art. There are elaborate walls along freeways. One special wall, my personal favorite, had fish sculptures on it that glowed a deep, blood red in the night.
And I realized something by the end of my stay there: no matter how much you spruce 'em up, a wall will always tell a story of division, of separation, of disconnection, of hinderance, and of restriction. They certainly lent an air of desolation while driving about the city, and made me rather desperate to penetrate the walls, so I could feel as if I had arrived somewhere.