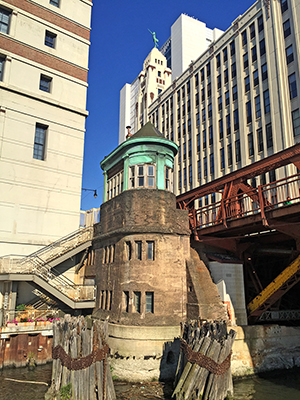 Who knew that competition was so fierce and cutthroat in the world of architectural boat tours in Chicago? According to our guide, who was a docent volunteer on the official Chicago Architectural Foundation tour, CAF has turned their river meanderings into one of the top visitor draws in the city, which, of course, has spawned a lot of copycats. Damn tour counterfeiters.
Although I was feeling smug about having chosen the right tour, in truth, if I am totally honest with myself (which I try to avoid), it would have never occurred to me to take the tour unless my friend (and planner) Sara King had recommended it!
And, I can unreservedly recommend it to anyone visiting , even if you have no interest in architecture. It's just really darn fun to be toodling around on a boat, on a river, in such an amazingly urban place. Chicago is truly one of our grandest and most interesting cities visually.
Tidbits that jumped out at me: there is a building that was designed to look like a champagne bottle…The structure used as City Hall in some Bat Man movies is a gigantic and vacant historic Post Office (they abandoned it and built a really ugly new PO next door, refusing to connect it up to the Riverwalk, way to go Feds)…The Chicago Riverwalk was inspired by a Daley visit to San Antonio…They use locks to get from the River to Lake Michigan because the lake is higher than the river…Montgomery Ward was responsible for all of the miles of the public access to the lake in Chicago. I was very impressed by the latter — Ward spent years fighting the city's plans to develop this land, using his own money. And to this day, he is the reason over 28 miles of coast line is open and accessible to regular folks. Huzzah to Montgomery Ward.
I was particularly taken with the lovely scale of the river — not too big, and not too small — and the appropriately charming bridges that cross the river. They are bascule designs, perfectly balanced upon a fulcrum to open and close with only a small motor to move them. The bridges, and the wide variety of bridge tender houses (no two are alike apparently), serve as a wonderful counterpoint to the modernity and height that arise around the river.
And there is no better vantage point to see these charming little houses than from the river! Here are some examples that I was able to catch, sun permitting!