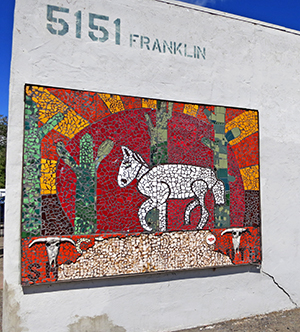 The Executive Director of the Historic Monterey Trail District, Nathan Ulsh, inspired me with a new tour he created for his South Sacramento corridor, so much so that I asked him if he wanted to guest post about it here! He does a great job bringing big picture resources to his district, and executing on the small things that foster connection and brand. Take it away Nathan…
=========================
Posted by Nathan Ulsh
=========================
How do you start to debunk the myth that your PBID's commercial district is scary? This was the question I had when I observed that there were few white folks over the age of say, 40, meandering through our businesses on Franklin Blvd in South Sacramento.
Inspiration for tackling this problem came to me in the Spring of 2017: change minds one Spanish student at a time! I was perusing the Nextdoor app (social media platform similar to a virtual neighborhood watch) for Curtis Park, the neighborhood with a lot of disposable income directly adjacent to Franklin Blvd. They were recruiting students over 50 years of age for a level 102 Spanish class, and since it was drawing from Curtis Park and Hollywood Park, it meant this class was going to get good Anglo representation from consumers who might never otherwise go to South Sac.
Drawing on my experience conducting professional development tours for troubled youth to meet directly with business owners, I thought we could apply something similar for students in this Spanish class to foster more intimate conversations between Anglo customers and the amazing collection of multi-generational Latino-owned businesses that we have on Franklin Blvd. I reached out to the teacher, and offered a free business tour where her students could practice their Spanish, meet business owners, learn about Mexican culture, food, music and history, all while spending money in my district.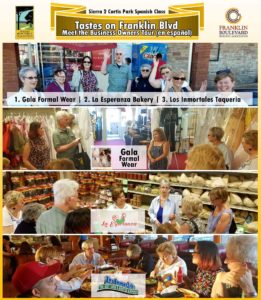 The teacher agreed and we were on. (Click on the image to the right to enlarge pix from our first tour!)
The best part of our Spanish meet and greet was the difference in attitudes before and after we set out. At the beginning of our outing, one of the attendees admitted that her friends had feared for her safety when she told them she was going on a business tour on Franklin Blvd. Thankfully she didn't let it stop her!
We started with a brief history of our district, the vibrant culture represented here, and all of the projects we have in the works. Then we hit the road, on foot. Even though Franklin Blvd is an arterial, and consumers don't think about walking, all of this was easily accessible as pedestrians.
Our first stop was Gala Formal Wear where my tour-goers learned about quinceñeras—the celebration, the attire, and the expense (these celebrations can easily top $10,000.) We asked everyone to come with an appetite, because the next port of call was a must-stop destination for the Mexican community: La Esperanza Bakery and Market. No one can resist their pan dulce (Mexican sweet bread), and our students chatted in Spanish about food and sweets, tasting a wide variety of specialties. The last stop of our two-hour tour was more food (it's a good thing we were walking)! Los Inmortales provided a mouthwatering traditional Mexican dinner, and the owner conversed with our group in Spanish about his restaurant and the food that was served.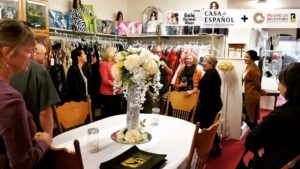 All in all, the business owners really enjoyed interacting with new customers, and the students ate it up (figuratively and literally).
At the end of our time on the street, the same woman whose friends had doubted her sanity for walking on Franklin Blvd said, "This was exciting! I am going to bring my girlfriends over to this area!" Everyone explained that they had not known about the history of the district, or the rich offerings of the businesses. It is, by far, the best collection of comments I have received about the district by outsiders. And now, they are going to tell every one of their friends.
And that's how you change minds: one person at a time, having a great experience.
Needless to say, I am now offering quarterly Spanish-speaking business tours because it was so successful for everyone involved. (The folks cracking up above left are from our second tour.)
I love my job.
(Tour photos courtesy of Nathan Ulsh)
{ 0 comments }