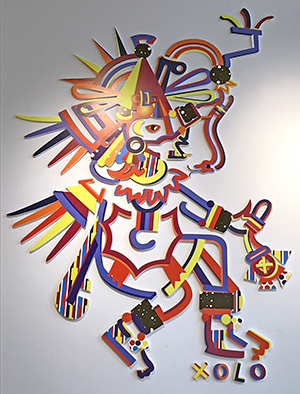 At a large common table at a fave coffee shop early last year, I spied a man alternating between working intensely on his computer, and furiously sketching on a pair of canvas Vans. (Okay, spied is a bit dramatic, he was sitting right across from me!) Honestly, I was mesmerized by his drawings… their color, abstraction and dimension. His focus. His switching between computer work and sketching. I was desperately trying to figure out how to surreptitiously take a photo of the whole thing… but I'm not so good at that. (I always forget the sound is on when I try to take a secret picture… busted!)
Finally, I gave up being sneaky and just asked if he would mind if I took a shot of the shoes he was working on, and he graciously obliged… which is the picture you see below right (pens visible inside the shoe). After my intrusive request, we started chatting as if we had known each other for ages (much to the laptop warriors' irritation around us), and I learned he was making the shoes for his sister, hiding animals in the colorful dimensioned shapes. (You can see the rhino on the front left shoe… an easy one to spot!)
I was IN LOVE with those shoes. Next thing you know, I called my Mom and my daughters and asked them to name a few types of animals for me. Needless to say, they thought me a bit crazy (but no more so than usual). Humoring my request won them a reward: the honor of being shod with magical works of custom art by the fabulous Luis Gutierrez!
He is a dynamic young artist and designer who moved here from Arizona, and I am delighted that we have become friends. We would never have met, nor would we have gotten to know each other, without the intervention of Sisters Coffee Company, one of my favorite third places in Portland. (Honestly, I wish I could send Luis into some downtowns where I work to implement a midnight guerrilla paint scheme on a beige building — now that would be fun!)
Anyone who is interested in purchasing one-of-a-kind gifts of original artwork sketched on shoes or bags, Luis can hook you up when he's not busy painting, baking artistic creations (literally), or arranging to show his original pieces! You can track him down on Instagram at XoloArt1.
Ray Oldenburg coined the term "third places" in his book The Great Good Place, first published in 1989. In this important piece of writing, social environments were divided into "first places" (home), "second places" (work), and "third places" (churches, cafes, clubs, libraries, parks, etc). Mr Oldenburg felt third places were critical for building and maintaining a functional community and also considered them a basic building block of placemaking.
As I think about third places, I realize that mine usually revolve around visits to parks and things to do with food… and if I'm being totally frank, my preferences trend heavily toward places with food! For awhile, Ken's Artisan Bakery in Portland was a frequent meeting third place for me. One day, I was scheduled to connect with a construction manager friend who had invited a landscape architect she knew — women discussing the built environment with pastries, I mean, come on, does it get any better than that?
We proceeded to chow down and chat up a storm, probably too loudly. The latter became readily apparent when a woman sitting near us introduced herself: Lisa Stidd was an architect who had recently begun doing some writing for a new online publication focused on urban issues, Urb DeZine!
She asked if any of us would be interested in writing for the publication, and that's how I not only came to post the occasional piece, but it was my introduction to its publisher: Bill Adams. He has been a consistent and delightful collaborator and supporter, and I am grateful for what he does to provoke thoughtful discourse on all things urban.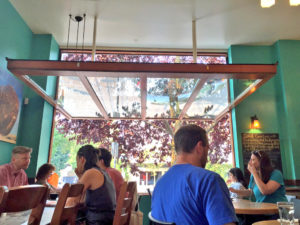 Would I have encountered this opportunity without a third place? Nope.
Both of these spots have a few things in common: easy to walk to, busy, amazing natural light, and great core food products — either baked goods or coffee. For me though, they are at their best as citizens of the street. In other words, they blur the line between interior and exterior. When sitting inside at Ken's on a nice summer day, with the giant window open (shown to the left), it is truly an interior/exterior experience. You are a part of the street, and it is a part of you. At Sisters, I have sat in the window on many a winter day and witnessed reunions, dog walkers, breakups, kids playing in the snow, people sprinting from torrential downpours, first dates, and even a television show being filmed with fake rain! (I know, they couldn't find a real rainy day in Portland?)
So consider this a love letter of sorts, a deeply appreciative Thank You to all of the amazing third places in every city and every town that give us a spot to see and be seen in our community. Americans are not really very good at hanging out without a defined context, and if we didn't have these fabulous third places, our already damaged sense of community fabric would be irreparably frayed.