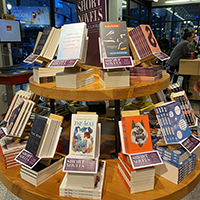 April 1st is coming people, and most of our small businesses have seen such a big drop in sales, they are not going to be able to pay rent in a few short days. More than that, they are not going to survive this economic pause without immediate infusions of cash and assistance.
Current GOP-forwarded initiatives are NOT going to work to help small business in the wake of the COVID crisis — they are both the wrong products (i.e. loans) and have the wrong timeline (not soon enough and not long enough).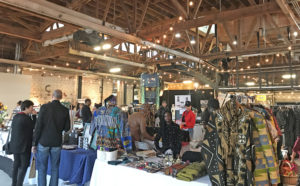 This is not a "juice demand" stimulus situation. This is a "the world's economies have all shut down so what do we do now?" situation. So what do we do? The answer is sort of simple. If the world's economy is on pause, then we have to help small business press the pause button. We need a new set of tools to help small biz hibernate, take a hiatus, or do some minimal sort of operation (described more below), so they can re-emerge when demand starts to pick back up and/or they are legally allowed to open. And make no mistake, business is not going to recover back to 2019 levels for at least 12 – 18 months, if at all. So ALL of our tools should be oriented on helping people be closed for awhile.
How Do We Press Pause?
We have to go up the food chain to note holders and focus on debt forgiveness. And, we need to work on income replacement for lots of folks who might not qualify for unemployment.
Small brick and mortar businesses have 4 big categories of expenses: employees, build-out loans, inventory/food costs, and rent. If we want the small guys to take a hiatus instead of going out of business, we have to have a plan that can work for all four categories of expenses.
Employees
Whose brilliant idea was it to give loans to businesses with zero dollars in sales so they could pay employees? That's the most complicated back door unemployment program I could imagine. And a needless hassle for business owners under stress. Instead, we need non-viable businesses to save money now, take a hiatus, and have government/foundations step up and offer unemployment benefits to two key types of employees:
Documented service workers that don't qualify for unemployment.
Owners who aren't employees, such as sole proprietors.
Build-Out Loans
In many markets, space is delivered in what is called "cold shell" condition. That means walls framed, no sheetrock, no electrical distribution, no lighting, sometimes no floor, no bathroom, no HVAC (or no ducting), etc. So a retailer who takes a cold shell space is spending a lot of money all at once upon starting their business to build out their space (finishing a cold shell space is referred to in the biz as building out "tenant improvements"). Many startup businesses obtain a loan for tenant improvements. On average, smaller retail tenants usually have TI loans of less than $100,000. Of course, this depends on the market.
This process is even more amplified for uses that have particularly expensive equipment/systems to install, such as dentists, restaurants, or hair salons. As an example, take restaurants. They have to pay to bring their spaces to warm shell condition, and then on top of it, they have to install two ADA restrooms, a ton of plumbing, a ton of sewer connections, a grease trap, a hood vent, a fire-rated chase for a hood vent, upgraded HVAC, sometimes electrical panel upgrades, sometimes upgraded water supply, walk in cooler, etc etc. These types of tenants might have TI loans between $100,000 and $500,000, depending on the market and the size of the space. (It can be much more in very expensive markets.)
In order to hit pause, all tenant improvement note holders must refinance these loans so that there can be no payments by businesses for up to 12 months. Forgiveness or reduction of these loans should be considered for permanent COVID-induced closures or for businesses with depressed sales as compared to 2019. Lenders and bankers will cry, and how much they should receive in lieu of loan payments for 12 months, I would leave up to Elizabeth Warren to figure out. 🙂
Inventory Loans/Food
We should be connecting food banks and restaurants temporarily closing so they can unload anything that might spoil over the next 6 months. And, we should compensate restaurants for this cost of food.
For retailers, inventory loans are essentially short-term lines of credit that are used to purchase inventory, with the collateral being the product that is for sale. Any reasonable Main St assistance needs to include straight up forgiveness for inventory loan payments that cannot be made while businesses are put on pause. Once again, we would have to go to inventory lenders and ask them to refinance these loans. Debt forgiveness is a huge part of any package to help small business. Retailers could start paying upon resumption of business, or after 12 months, whichever comes first. And there should be a provision for a write down of this debt if sales are still significantly depressed after 12 months.
Rent
Every small brick and mortar biz (other than grocery, liquor, weed, hardware, and drugstores) is going to take a big sales hit. In some cases, by "hit," I mean literally no sales. So, every small brick & mortar business should be able to close without paying rent, NNNs or CAMs (common area maintenance charges) for up to 12 months, or whenever COVID restrictions are lifted, whichever comes first. (Please see my post on why we need a commercial eviction moratorium RIGHT NOW! And, if you know any businesses having trouble asking for a rent reduction, here is a letter to get the ball rolling.)
If we do this there are many positive effects. Perhaps a business can do some online sales. They can offer community based support. They will keep utilities on and space occupied. (Unused commercial space decays into disrepair mighty quick.)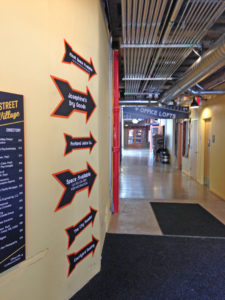 Of course, non-payment of rent, NNN fees (taxes, insurance, and maintenance), and CAMS will negatively impact property owners. Many of the buildings that are good homes for small business are also owned by small property owners who have to make loan payments, and pay for property taxes, insurance, etc.
The only way to solve this is to move up the capitalist food chain, once again, to the folks who got massively bailed out in the last recession: note holders. This time lenders for commercial spaces should be required to step up. They can re-amortize commercial loans so property owners don't have to make any payments if they are waiving rent. Unpaid interest during waived rent periods can be added to the re-amortization.
In this scenario, lenders will sacrifice some short term cash flow, but you know what? It's about time they paid back the American people for the bailout they received during our last downturn. And property owners will pay a bit more for this over time, but you know what? That's totally fair because property owners are typically in a much better financial position than small business owners.
Replacement Income
Service workers are being laid off in droves. All of them. Many of them are not going to qualify for unemployment programs for various reasons. We need to three key things:
Change the rules of unemployment programs so they cover as many service workers as possible (such as providing $$ for part-time employees) and then make sure these programs are adequately funded. They will require a bail out themselves when we see the numbers over the next few weeks.
Make sure sole proprietors or pass through entities for tax reasons (single-member LLCs) are eligible for some form of unemployment insurance/income replacement.
Foundations should set up a "service worker relief fund" that can serve as a sort of unemployment program for undocumented service workers.
Establish Delivery Service
What else would I like to see? I would like city governments get involved in creating opportunities for local vendors to sell their goods in a distributed way.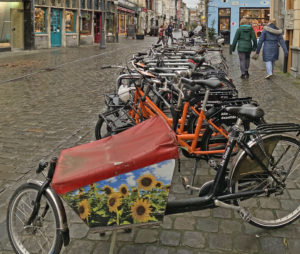 Perhaps it is in the form of a hyper local delivery service with e-bike cargo cyclists employed by the City. It could be offered for free as a service to vendors who want to work together to offer regular deliveries of everything from food, clothing, drinks, accessories, produce, activities, toys, etc. This would really help small biz create at least some revenue during this closure. (Retooling for delivery is not as easy as it sounds. For example, an ice cream maker wouldn't make enough on a pint of ice cream to make traditional delivery feasible. Or a fine dining establishment doesn't necessarily prepare food suitable for takeout. There is a lot of work to figuring out how to take what you do to make it delivery, pick up, or take out friendly.)
I like the idea of creating distributed local locations for pick up subscription boxes for local products with food, treats, group activities/games. Pick up times could be scheduled so there is no overlap and social distancing is observed.
Right now, Safeway and Amazon are getting a lot of the local grocery delivery market. Could we figure out a way to help smaller ethnic grocers cash into this demand by providing delivery to their local trade areas?
Just want to close by saying that I have been heartened by the incredible outpouring of passion, knowledge, technical expertise, and hard work that is being directed toward the challenge presented by COVID to small business. It is delightful to work along side the amazing people putting their heads together to help those who are most impacted by Coronavirus.
{ 0 comments }